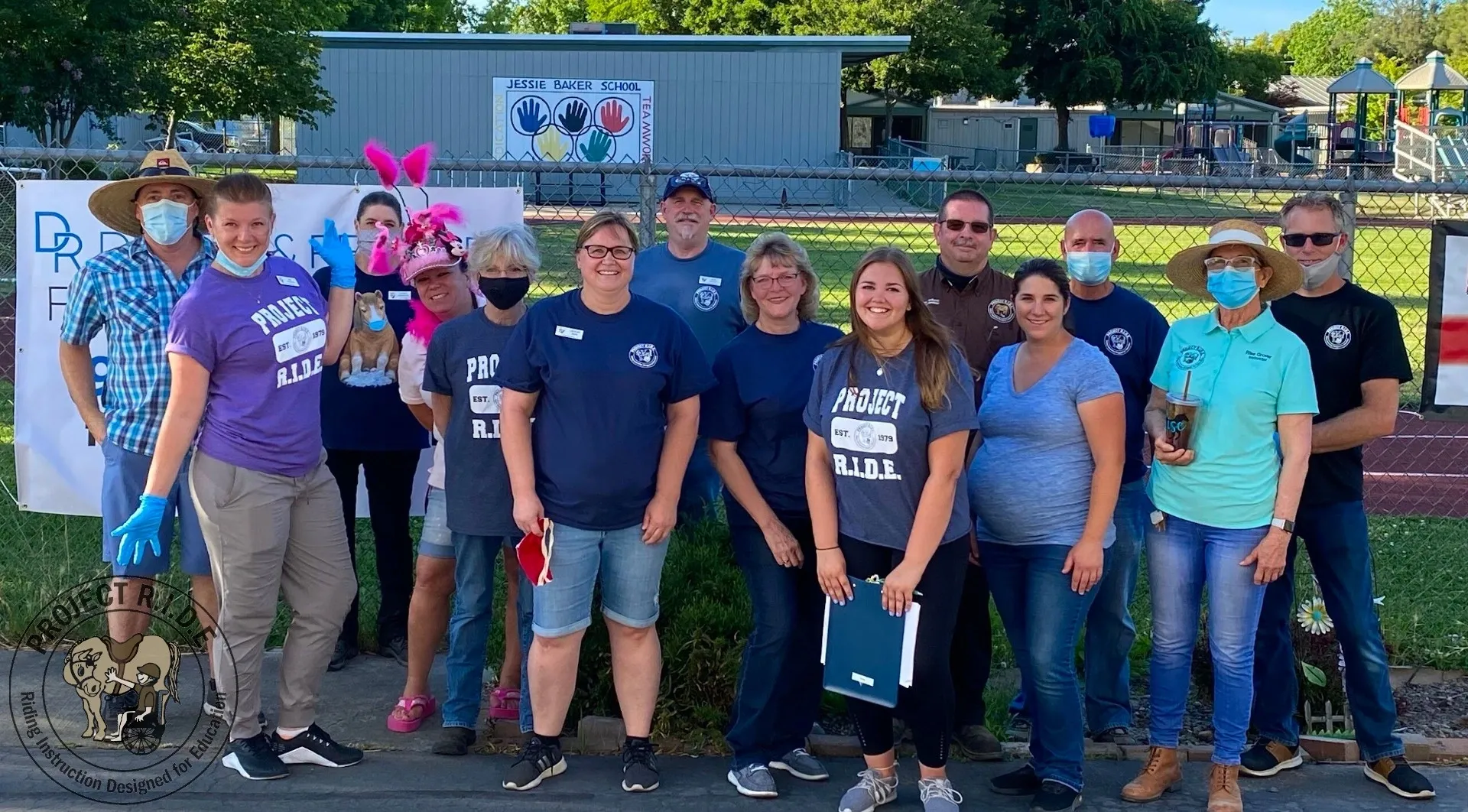 Meet our Friendly Staff and
Board of Directors
Project R.I.D.E.'s staff consists of an Executive Director, an Office Manager, a Community Outreach Manager and Outreach Coordinators, PATH International Certified Therapeutic Riding Instructors, and a Ranch Caretaker. Our beloved and hard-working four-legged employees include our amazing team of therapy horses and eight official therapy cats and mousers: Hobbs, Mowgli, Nilly Puddin', Trip Hazard, Marshall, iLean, Thelma & Louise. All other duties are handled by our dedicated army of volunteers! To find out how you can help, click here.
Meet the Board. Project RIDE is run by an all-volunteer group of extremely dedicated individuals who oversee all of our program operations and finances and work hard to make sure we have the funds we need to run this program. Monthly board meetings are open to the public and occur every second Thursday in the Project RIDE arena at 5:30.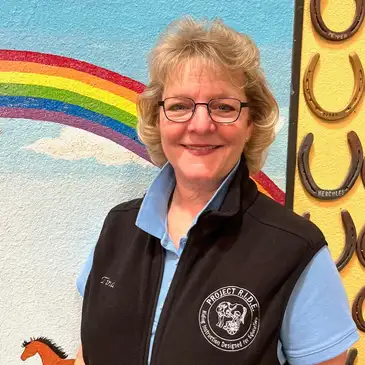 Tina Calanchini, Executive Director
 
I began volunteering at Project RIDE in 2001 and have loved every minute of my time spent at this awesome non-profit. I have always been fascinated by little KIDS and have always wanted to see the world through their eyes. Working with children with challenges and different abilities is even more fascinating! When pairing a horse with a rider, 
the connection becomes a bond, and that's when the magic happens, all day every day. I love being able to provide a great support to those that need just a little more help in this life.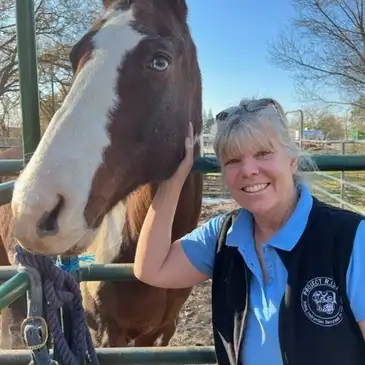 Lori Candelaria, Office Manager
 
Lori manages the office and makes sure our operations run smoothly. She moved from the Bay Area in 2010 and soon after came to Project R.I.D.E. "Ever since my move, I dreamed of working with a facility that treasured children & valued the rural horse lifestyle within city limits. I have been so fortunate to find all that @ R.I.D.E." From
outreach to in-house support, Lori's role is to represent R.I.D.E. in program fundraising support and business office administration. At the end of the day, I enjoy going home to "be" with my husband, three beautiful kids, a 30 year old quarter horse gelding "Dually", 2 goats, & 7 chickens.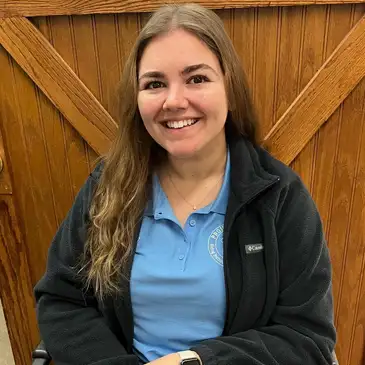 Emily Calanchini, Community Outreach Manager
Emily has wanted to work with children since early high school. She graduated from California State University, Sacramento with her Bachelors in Child Development in 2022. Emily was interested in the uniqueness of Project R.I.D.E. and getting to work near children. She began working at R.I.D.E. in 2014 as a data entry clerk. Emily wears
many hats as she has taught an 18 and Up Club, still works on data entry, helps plan annual fundraisers, manages social media pages and the programs website, as well as assists with volunteer coordination and much more. In her free time she loves going to Disneyland!
Suzi Lawton, Community Outreach Specialist

Suzi joined Project RIDE as a volunteer in 2008. With a past career in finance, Suzi now works in our office as a volunteer coordinator helping to ensure we have volunteer support for our program and helping to keep things running smoothly for our volunteers. Suzi is an avid animal lover. She currently has a flock of doves, chickens,
2 rescue bunnies, a feral cat community, and other small animals that come her way from time to time. Her favorite rescue was a baby opossum which she raised and released as an adult.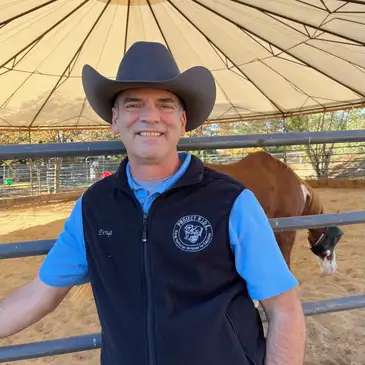 Doug Hebbard, Ranch Caretaker/Manager

Doug joined Project RIDE in 2017 as a volunteer. Sidewalker, leader and hauler wasn't enough for Doug so in 2020 he became our ranch manager. An Army Combat Veteran and Retired Firefighter/Paramedic he was drawn to the horses healing powers in early 2017. He now owns two horses of his own helping him on his journey to peaceful minds and
partnerships with them. Doug and his wife Brandi care for our herd of therapy horses at our ranch in Herald.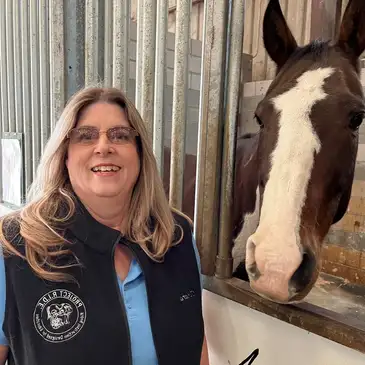 Tamara Lipanovich, PATH Int.l' Certified Riding Instructor; Equine Specialist in Mental Health & Learning
Tamara Lipanovich has ridden horses most of her life and enjoys riding a variety of disciplines from trail riding to jumping and dressage. When it comes to riding she refers to herself as a "jack of all disciplines, master of none".
Prior to Project RIDE, Tamara worked in education and in the non-profit field. Tamara graduated from CSUS
with a Master's Degree in Special Education. In addition to her instructor certifications Tamara holds a California Teaching Credential, a California Special Education Credential, and a California Child Development Program Directors Permit.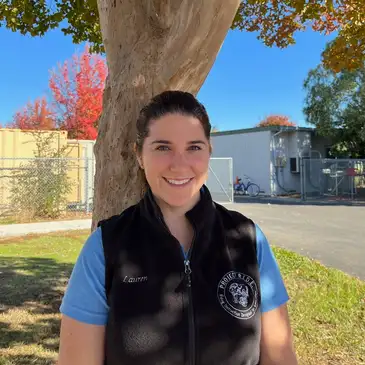 Lauren Hieb, PATH Intl Advanced Therapeutic Riding Instructor; Equine Manager; Equine Specialist in Mental Health & Learning
Lauren fell in love with horses early on in her life, competing in Gymkhanas and Barrel Racing events. It wasn't until she volunteered at a therapeutic riding center in Fresno, that she knew she was going to make a long-term career out of teaching. She went on to attend Centenary College in NJ, and in 2007 graduated with a B.S. in Equine
Studies. Throughout college she competed in the Intercollegiate Horse Show Association in both English & Western riding disciplines. Right after graduation, she flew back to CA, and immediately started working at Project R.I.D.E. Inc. and has been there ever since. In her free time she enjoys fishing, hunting, & anything outdoors.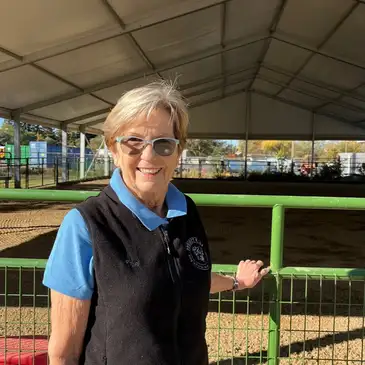 Rise Grover, PATH Int.l' Certified Riding Instructor

Rise's career at Project R.I.D.E. began in 2015, and like many staffers, she also started as a volunteer. In 2017, she became a PATH Int'l Registered Therapeutic Riding Instructor. Rise is a retired educator, who, with her family, lived overseas for many years. "Teaching at Project R.I.D.E. is an amazing experience. There are so many moving parts that
make Project R.I.D.E. work and I love being a small part of this wonderful organization. It is the very special students with great staff and very dedicated volunteers that make it a privilege to say I work here!"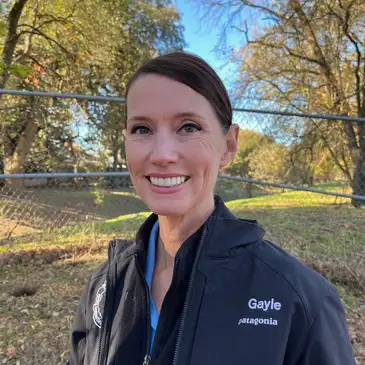 Gayle Stowell, PATH Int.l' Certified Riding Instructor

Gayle began interning at Project RIDE in 2016. In 2017 she became a PATH INT'l Registered Riding Instructor and then officially joined the staff at Project RIDE in 2018.
She is a lifelong equestrian and can't imagine doing anything else or working anywhere else.
"I love my job! I've been privileged enough to hear non-verbal children
speak their first words on horseback and on a daily basis I get to see the physical benefits gained by those who climb into that saddle."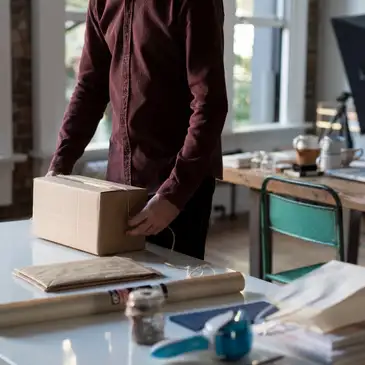 Genell Csik, PATH Int.l' Certified Riding Instructor
Genell came to Project RIDE as a volunteer in 2014 and knew this was where she was meant to be. She became a PATH Intl. Registered Therapeutic Riding Instructor in early 2015 and earned her PATH Intl. Equine Specialist in Mental Health and Learning certification in 2016. Genell values her time at Project RIDE as a way to give back to the community
"Working at Project RIDE is special because every day our staff and volunteers decide to do something positive for others. I'm so happy to help make the magic happen for these amazing st udentsand their families!"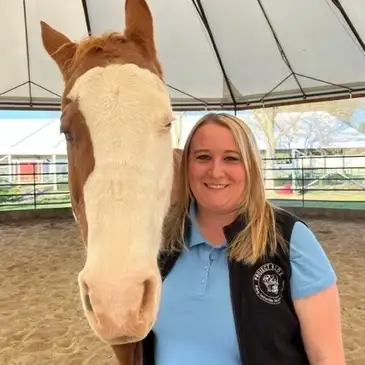 Rachel Prettyman, PATH Int.l' Certified Instructor, Equine Specialist in Mental Health & Learning
Project RIDE feels like a second home to me, and is the reason for my horse addiction! My brother is disabled and grew up taking lessons at RIDE. I loved tagging along for his lessons and quickly fell in love with the barn and horses. I often dreamed of one day becoming a RIDE instructor. As soon as I was old enough, I became a volunteer
and spent as much time as I could around the barn. I took a break from volunteering to attend college, where I received my California Multiple Subjects Teaching Credential. After starting my teaching career I returned to RIDE as a volunteer and quickly rediscovered my desire to be an instructor. I became a certified PATH instructor in November of 2016 and now teach lessons on Monday and Thursday nights! When I'm not teaching 5th grade for the Elk Grove school district, or teaching at RIDE, I'm often out at the barn riding my horse, Sierra.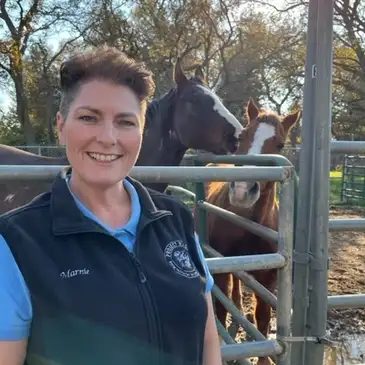 Marnie Nessen, PATH Int.l' Certified Riding Instructor
Marnie, like many other young girls, fell in love with horses at an early age. In 2014 when Marnie started volunteering at a Therapeutic Riding Center, she realized this was something that brought her joy. Spending days with horses while helping others was the perfect recipe for happiness. After volunteering for 5 years, Marnie took the
leap to becoming an instructor. In 2020, Marnie and her family relocated to Wilton and she greatly missed working at a center. Thankfully she found Project R.I.D.E. and started volunteering in October 2021 and in March 2022 Marnie was lucky enough to be added to the wonderful staff at Project R.I.D.E. When she is not at Project R.I.D.E., Marnie spends time at her ranch with her husband, three children and a long list of animals. She enjoys competing in gymkhanas with her horse Sassy as well as growing pumpkins and being momma to a small herd of goats.
Kimberly Hettrick, President
Born and raised in South Sacramento and an Elk Grove resident since 2000. I am happily married with 2 beautiful children. My first career spanned 12 years in banking. My second career and current employment is with the State of California. I have proudly served on the Board of Directors for Project R.I.D.E., Inc., starting in 2002. My role
have included Treasurer, VP and President. There is no greater joy than seeing the happiness our program continues to bring to our riders!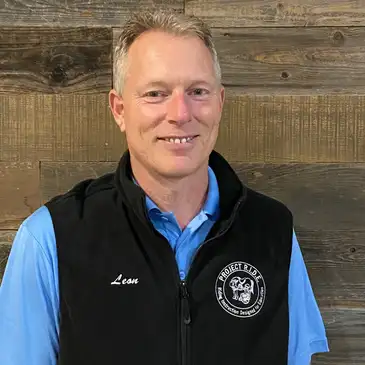 Leon Vanderspek, Vice President
I'm Leon Vanderspek and I have been involved with Project R.I.D.E. for the past 12 years. My oldest daughter, Sophia, began riding there in June of 2011. I am also a teacher in the Elk Grove Unified School District where I am currently teaching 4th grade at a nearby school. I grew up in Galt, Ca, where my family owned a small dairy.
Along with Sophia, I have another daughter named Paige, and a wonderful wife named Karen, who are also involved with the program.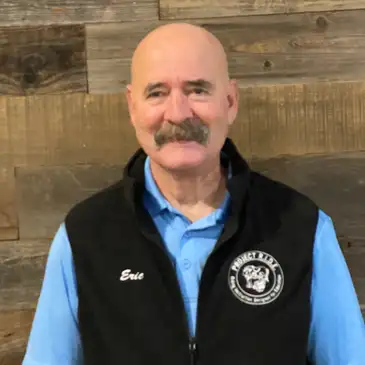 Eric McDonald,
Director
I have been a resident of Elk Grove/ Wilton for over 50 years. I attended Dillard elementary school in Wilton, Elk Grove high school and California State university at Sacramento. After a 30 year career with UPS, I was looking for an opportunity to give back to our Elk Grove community and Project Ride was a perfect fit. My mother, Mary
Mc Donald was a volunteer at Ride many years ago and truly enjoyed helping this organization. I began volunteering here in 2009, and joined the board soon after. I have found Project Ride to be an extraordinary and very rewarding place to work.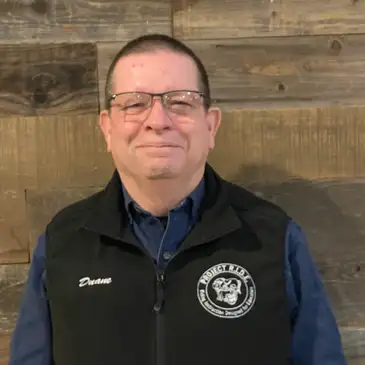 Duane Tadlock, Secretary
Duane and Cassonda have been married for over 32yrs. They manage the Baylee Rose Scholarship for Project R.I.D.E. Their daughter, Baylee Rose passed away on 01-09-2010, she was a rider at Project R.I.D.E. for over 7yrs. Duane has been on the Board for over 12yrs.
Duane retired after serving as the Chief of the California Lottery. He served
in law enforcement for over 40yrs. Duane is a Terrorism and First Aid, CPR & AED instructor to local law enforcement. Duane is a Reserve SGT with the Placerville Police. He is a Colonel and has served in the California State Guard for over 38yrs.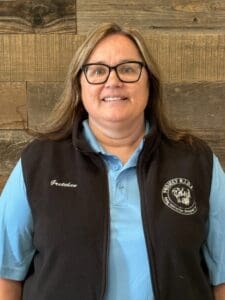 Gretchen Brink, Director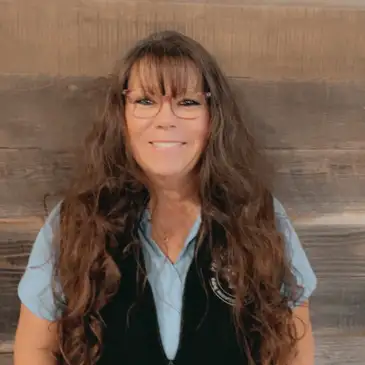 Amy Souza, Director
I am a grandmother of two small children and love, love, love kids. I will use whatever I have at my disposal to help make our kids smile and laugh. Since joining Project RIDE I have had the experience to grow and learn from the kids we help every day. They give and love unconditionally which makes my heart happy. Choosing to dedicate my
time and energy as a volunteer, leader, and mentor gives me the opportunity to help these kids achieve their full potential physically and mentally while having fun. Making a difference in a child's life is my reward at the end of the day and I look forward to it every day.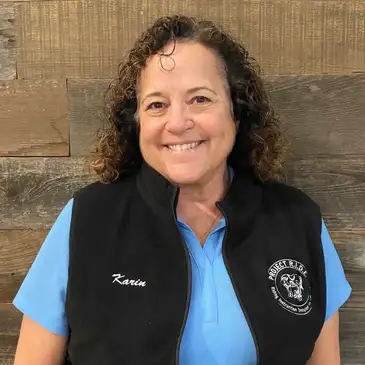 Karin Ramirez, Director
I have been at Project R.I.D.E. since January 2019. During that time, I have discovered the magic that occurs in this barn. I have worked with children and families for 37 years, and grew up loving horses, so this was a perfect fit for me. I have been married for 40 years, we have two daughters and four granddaughters.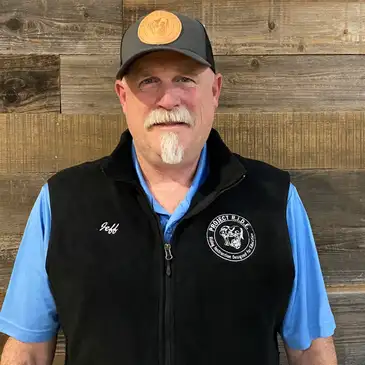 Jeff Alley, Director
I have been a volunteer with Project R.I.D.E. since May of 2019 and on the Board of Directors since September 2019. My profession is in Retail Management for 30+ years. Through one of my jobs, I got involved with Hope Rehabilitation that works with Adults with special needs. This instilled my love to helping others and led me years later
to Project R.I.D.E. where I could work with horses and kids with unique abilities. This experience, by far, is one of the most rewarding things I've done. Away from Project R.I.D.E., I also volunteer with the End of Watch Fund and I'm a Community Ambassador for the city of Elk Grove/Police Department. I'm marries to my lovely wife, Nicole and we have one son, Austin. Both also volunteer at Project R.I.D.E. We love the outdoors and making as many memories as we can.
Jack Dalton, Director
Jack has served on the Board of Directors of Project RIDE for the past 2 years and has lived in the Elk Grove Galt area since 1981. He has worked for Five Star Bank as a Senior Vice President and Chief Credit Officer since 2011 and has more than 41 years of experience in the commercial lending industry, which leads to Agricultural lending
and banking. Jack currently operates 100 acre almond orchard just east of Galt with his family and operates a 50 cow calf ranch with his wife Kristi and kids. He also serves on the Sacramento Metro-PAC Board of Directors and is a member on the District 3 Grower Liaison Committee for Blue Diamond and a member of the Sacramento Sutter Club's Member Finance Committee. Jack Graduated from Polytechnic State University, San Luis Obispo, with a Bachelor of Science degree in Animal Science.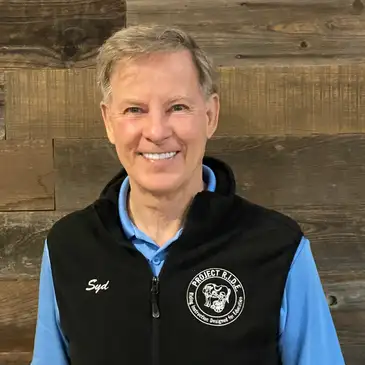 Syd Highley, Treasurer
After graduation from UCLA with a degree in Economics, Syd earned his accounting experience with the international firm Arthur Young & Company (now Ernst & Young). It was there he obtained the experience necessary to obtain the Certified Public Accountant (CPA) credential.
Syd founded a CPA practice in 1988 which serves hundreds of
individuals and small businesses with tax and accounting needs. Syd has been active in local community affairs by serving on the Board of the Elk Grove Chamber of Commerce for 6 years and now participates on the Board of Project R.I.D.E.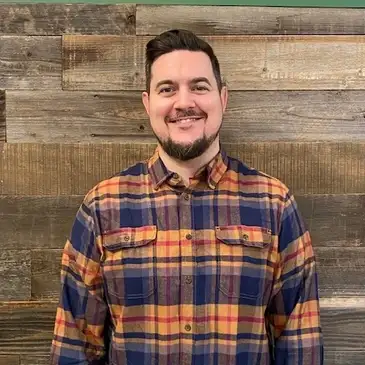 Bret Bartholomew, Director
Bret is a home grown Elk Grovian and enjoys our community because it allows him to continue the philanthropic tone set by his family years ago. He loves to be involved in ALL local events and believes deeply in giving back to his community. Bret finds being a father to his ten-year-old son extremely rewarding and strives to be the BEST Dad
he can be and the best example of a community Leader. His hobbies, when not volunteering, include wine tasting, visiting our local parks and resting when he can to try to keep up with his son! He is currently a Chamber Ambassador and Brand Ambassador for Christopher Cellars, his family winery. You won't have to look very hard to find Bret at nearly EVERY event in Elk Grove.
Tax ID: 94-2778565
We are a nonprofit 501(c)3, and most donations are tax-deductible. Consult your tax professional for advice.